Four Decades of Dry River
By Jancis Robinson
As I reported in 'Syrah, not Pinot, is NZ's best red', the founders of New Zealand's cult Dry River winery came to London in June, with current winemaker Wilco Lam, to host a retrospective tasting to celebrate the 40 years of the estate's first plantings. The timeline below tells the story of a remarkably quality-driven enterprise. Dr Neil McCallum set himself particularly high standards and throughout his life as a winemaker constantly fretted that he had not met them. The market suggests otherwise.
This was a producer that I visited and followed early on and still have a magnum of 1999 Pinot Noir in my cellar, and have many happy memories of Rieslings from the early years of this century. Though as more and more exciting names emerged from the North and South Islands, my interest became somewhat diluted. I still think, however, that Martinborough is, along with North Canterbury, one of New Zealand's most exciting wine regions.
DATE
EVENT
2019
40th anniversary of first plantings in Martinborough, in London and Edinburgh with Neil , Dawn and Wilco
2016
Wilco Lam chief winemaker/GM, Ant MacKenzie consultant
2014
Wilco Lam promoted to chief winemaker, Ant MacKenzie consultant/GM
2014
Three-year programme to remove reflective white under-vine sheeting starts
2013
Ambient yeast trials with Pinot Noir and Chardonnay; all wines ambient yeast by 2016
2013
Julian and Wilco start change to organics with cover cropping
2012
Poppie Hammond leaves as winemaker
2012
Wilco Lam promoted to winemaker/viticultural manager
2011
Neil retires; Ant MacKenzie now chief winemaker/GM of Dry River; Shane Hammond leaves
2009
Ant Mackenzie joins to assist Neil, overseeing Dry River Wines and Te Awa Farm
2009
Wilco Lam joins Dry River Wines Ltd
2006
Dry River publish booklet of early Musings and Jottings by Neil: Taste, Terroir and the Pursuit of Quality
2006
Reg Oliver passes away. Julian Robertson becomes sole owner
2006
Last Sauvignon Blanc parcel ripped out
2004
Remainder of Craighall Vineyard divided and purchased by Ata Rangi and Dry River
2004
Shane Hammond starts as viticultural manager
2003
Dry River sold to Reg Oliver and Julian Robertson. Neil stays on as chief winemaker/GM
2003
Arapoff vineyard renamed Lovat to honour Reg Oliver's family ties in NZ
2001
Poppie Hammond joins Dry River
1997
Part purchase of Craighall vineyard by Dry River
1996
First vintage from Arapoff vineyard
1992
Arapoff family first plant their vineyard (later renamed Lovat)
1989
First vintage from Craighall fruit: Riesling, Pinot Noir, Chardonnay, Pinot Gris
1987
First red wine produced: Pinot Noir
1986
Martinborough Terrace appellation defined
1984
First whites produced: Gewurztraminer, Pinot Gris and Sauvignon Blanc
1983
Craighall Vineyard planted 1983 to 1985
1980
Rootstock planted, headgrafted to Pinot Noir and Chardonnay in 1985
1979
Dr Neil and Dawn McCallum plant ungrafted Pinot Gris, Gewurztaminer and Sauvignon Blanc on Dry River Estate
1977
Soil scientist and friend Dr Derek Milne identifies Martinborough terraces as suitable for vineyards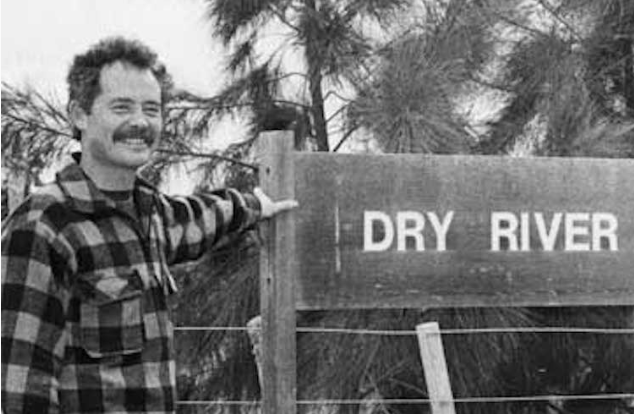 McCallum, seen above in the early 1980s, says that in retrospect deciding to plant in virgin territory in Martinborough with the aim of making truly fine was 'a really stupid thing to do as hardly anyone in New Zealand was really interested in good wine. I didn't enquire whether anyone else was interested in buying good wine. The bank manager would come to talk and delicately ask whether I'd ever thought of selling up.' But he admits that things have improved. 'The culture has changed and people do appreciate good food and wine now.'

His first love was Riesling with which he fell in love travelling through Alsace. 'I adored it.' And he felt confident about planting Riesling (after Pinot Gris, Gewurztraminer, Sauvignon Blanc, Chardonnay and Pinot Noir) because at that stage Martinborough notched up about 1,100 heat units, the same as Burgundy (whose generic body is urging us to call it Bourgogne) and German wine regions. But, remembers McCallum, several massive volcanic eruptions in late 1991 'completely changed the weather in the southern hemisphere'. In 1992 and 1993 they had about the same heat summation as Edinburgh.

But the scientist in McCallum realised that ultraviolet light can compensate for heat and set about all sorts of vineyard strategies to maximise radiation. They accordingly made much of eye-catching mulch under the vines to reflect the UV. Another vintage that McCallum remembers particularly is 2001 because the drought was so bad that all the leaves had defoliated before harvest. 'I thought this was probably the end. I thought "I'm not going to pick these grapes if they don't make good wine." But to my amazement they kept ripening thanks to the carbohydrates in the trunk, and 2001 has turned out to be one of my favourite vintages.'
In long-sideburned Dutchman Wilco Lam, seen above on the left with Ant MacKenzie, Dry River has a particularly thoughtful winemaker, as his published words, following the traditions of McCallum's 'Musings and Jottings', attest. You can read, for exmple, Influence the influencers and The sixth sense. In 2013, four years after the arrival of Lam, they moved into (non-certified) organic viticulture.
And, with hotter and hotter summers, they started to remove the mulch, presumably making way for cover crops, in 2014 and finished the job in 2015. Wilco observed that the 2015s we tasted reflected the ripeness associated with the mulch. 'It was challenging to maintain aromatics but we've tried and I think you see this from 2016 onwards. We've also tried to evolve the winemaking to reflect organics – gently. Soil management is helping; we started tilling the soil in 2014, 5-10 cm under grass, breaking up the roots to increase aeration and biological activity in the soil. We began spontaneous fermentation with our reds and Chardonnay but from 2016 for all varieties. We're also seeing the impact of organics in terms of structure and fruit flavour.' You can see from the Pinot Gris grapes below, ripening in April 2017, just how meticulous viticulture is here. Note the netting that is de rigueur here.
As almost everywhere on the planet (except for Brian Croser's Tiers vineyard – Australian vineyards – not that hot actually), harvests have been beginning earlier and earlier, partly as a result of their evolving viticultural techniques and climate change but also because of the team's evolving palates and preferences. The 2016 vintage began as early as 15 March and Lam describes it as 'a bit of a crowd-pleaser across the varieties'.

He says they want their wines 'to be driven by acidity with relatively low alcohol levels but good phenolic ripening to get transparent tannins', adding 'the most difficult part of taking over from Neil was that we realised we couldn't copy exactly what he did but we needed to ensure that there was a Dry River stamp on the wines. So we started to use bigger (300-litre) oak; leaving the must on skins a little bit longer (15–20 days but with less pigeage), Syrah longer than Pinot.'

Zubair Mohamed chipped in here to add that his other mentor (McCallum having been one) Gianfranco Soldera of Montalcino had been a factor in influencing the change to bigger barrels.

The quality of Dry River wines was vindicated by this admittedly partial tasting in London. As hinted at by McCallum, the Syrahs really were more impressive than the Pinots overall, and all varieties were clearly made to age in a much more stately fashion than most New Zealand wines – whites as well as reds. I was particularly impressed by the Pinot Gris, which Tim generally found rather disappointing in his assessment of NZ aromatics published yesterday.

If you have any Dry River in your cellar, there is not hurry at all to drink it.
Wines labelled as Amaranth – the complete list of those produced so far are in the table below – are their special favourites.
VARIETY
VINTAGES
Chardonnay
1999, 2001
Riesling
1998, 2007, 2010, 2013
Gewurztraminer (Estate)
2008
Pinot Gris
2000
Syrah
1998, 2006, 2013
Pinot Noir
1999
This article has been republished in full with permission from www.jancisrobinson.com